A 50-strong Australian Olympic Committee delegation still intends to travel to Tokyo for a planning visit next month despite high-profile sporting events across the region being thrown into chaos because of the deadly coronavirus outbreak.
Chef de mission Ian Chesterman will lead the touring party to the Games venue just months out from the sporting extravaganza, which is under a cloud because of the global health crisis.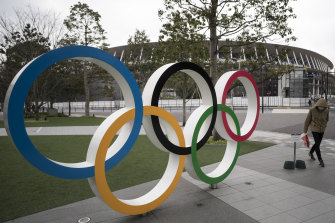 A man wearing a face mask walks past the Olympic rings in front of the main stadium for the Tokyo Olympics.Credit:Getty
While a decision on whether the Games will proceed is not expected for months, IOC president Thomas Bach said they were "fully committed to a successful Olympic Games in Tokyo starting July 24".
Global health experts have warned bringing visitors to Japan from all parts of the globe could spread infection rapidly.
There have been more than 83,000 confirmed cases of coronavirus and 2858 deaths worldwide.
"Bringing spectators together in large numbers increases the risk of infection," Tokyo Olympic Games chief executive officer Toshiro Muto said. "Downsizing is among the approaches we can consider."
Cycling's UAE Tour was cancelled after two Italian riders were confirmed as contracting coronavirus.
Four-time Tour de France winner Chris Froome, making his long awaited comeback from serious injuries in June, was undergoing tests as well as British ace Mark Cavendish.
Soccer's J-League has opted to delay 94 matches in Japan's top two tiers until March 15 while the Tokyo Marathon will restrict entries to elite runners, denying 38,000 amateur runners the chance to run the race.
The LPGA of Japan Tour will host its first tournament of the year without fans. It comes after three tournaments in Asia on the American LPGA Tour were cancelled.
The other side of the issue is the crowds and that's harder to manage.
Australia's deputy medical director for the London Games, Dr Donald Kuah, said minimising the risk of infection in the athlete's village was far easier than controlling the spread of fans.
"It would be fairly easy to ensure across a village that there are pumps everywhere in terms of sanitisers, wipes and appropriate face masks," said Dr Kuah, who was also the clinical director of the Sydney 2000 athletes village polyclinic. "It's really a tad early to call, but how easily can measures be put in place to reduce infection and exposure? They can be put in place fairly easily. The village can be quite a microcosm in terms of access and ideally you don't want to keep athletes away from family and friends, but if you needed to we could.
"The other side of the issue is the crowds and that's harder to manage."
The Japanese government has asked all schools to close from Monday until the end of March to contain the spread of the virus. It is estimated 13 million students will be affected.
The AOC announced its latest athletes for the Tokyo team on Friday, confirming canoeists Daniel Watkins and Lucien Delfour would take on the whitewater in Asia.
Source: Read Full Article